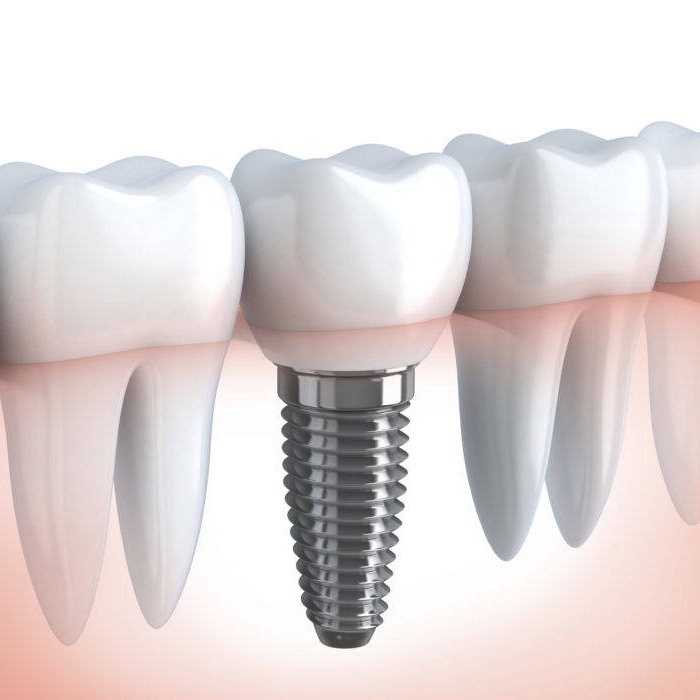 Tooth implants
Use of dental implants is increasing when it comes to patients with tooth loss. Treatment by inserting implants proved to be stable, functional and successful measure for providing a high level of comfortability for the patient.
Implants can compensate for one or more missing teeth. In addition, implants may form fixing systems for major teeth compensation (bridges) or for dental braces.
Highly purified titanium is used as a basic material for dental implants. In particular, this material is convenient in relation to the tissue (biocompatible) and it forms a safe connection with the bone (osseointegration). From a biological point of view it appears as neutral and does not cause allergic or foreign body reactions.
Prerequisites for performing the implantation are the following:
sufficient bone volume

sufficient space for the crown

good mouth hygiene

jaw development is finished.
The benefits of the implants are the following:
Prevention of bone mass loss (maintenance bones that disintegrate without the mechanical pressure)

Saving healthy teeth

Efficient therapy when it comes to tooth loss due to gingivitis (implants as a result of parodontopathy)

Routine surgery manly without any risks

Biocompatibility is ensured
Optimistic prognosis, cost-effective therapy due to long-term duration.
General preparation.
Optimum hygiene of the mouth and cessation of smoking, if possible, should be ensured.
Any issue related to the mouth needs first to be remedied. Insufficient bone volume in the jaw would be the reason for the next preparation procedure during which the bone mass is being built onto. Quality of the bone is assessed based on the 3D diagnostics, which can be done at the same place in order to shorten the process.
Bone grafting is procedure that replaces a missing bone with patient's bone, with material replacing the bone or both elements together.
Implant is inserted into the jaw bone as a root, using local anesthetic. Placing gum stitch follows. The procedure is painless and quick. One implant can be placed in 15 minutes. The wound takes 7-10 days to heal.
When will the osseointegration complete depends on its quality. For the upper jaw it takes around 3-6 months, while for the lower jaw it normally takes 2-3 months. During that period a provisory tooth compensation is put in the place of the implant. In some cases, an immediate pressure can be applied.
After the full osseointegration another surgery is performed after which the implant is released in order to provide connection with other elements of tooth compensation.
When there is not enough bone height in the upper jaw, or the sinuses are too close to the jaw, for dental implants to be placed a sinus lift is done.